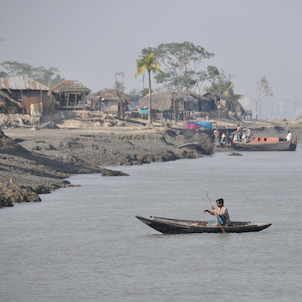 Adaptation to Climate Change 2014
Proposal creation
CoLab members create proposals

03/09/14 08:00 EDT

-

07/20/14 11:59 EDT
Proposal revisions
Semi-finalists can improve their proposals



08/05/14 08:01 EDT

-

08/16/14 11:59 EDT
Voting Period
Public Voting Period



09/03/14 12:00 EDT

-

10/02/14 12:00 EDT
Winners awarded
Winners are announced for the Judges' and Popular Choice Awards



10/02/14 12:01 EDT

Subscribe
What can be done to adapt to the impacts of climate change?
Climate change is a global problem whose challenges must be met at the local and regional level. Scientists have predicted its impacts to include changes in precipitation, heat waves, increased extreme weather events and disaster intensity, increased flooding and desertification, reduced fresh water resources, changes in disease patterns, and more. Even if we were able to aggressively reduce global greenhouse gas emissions, mean sea levels may rise between 26-54 cm by 2100 under the most conservative scenarios (IPCC 2013), and most projections foresee even higher effects. All of this is likely to affect plant, animal and human life. As such, it is imperative that we act now through conscious adaptation efforts, particularly at the local level, to create more resilient and climate-smart communities. Developing regions will bear a disproportionate risk, and their fate may largely be determined by decisions made in regions with the least incentive to act. This contest seeks to explore innovative institutional, educational, financial, and other means by which we can increase global and local preparedness for climate change on both domestic and international scales. Click here for contest details
Proposal name /  Author(s)

9

Implementation of climate strategy at Municipal level by empowering and training local actors with focus on agriculture and water resources.

20

Systems thinking leads to a regional desalination plan to replace a narrowly conceived, costly and destructive groundwater pumping plan.

12

Mangroves to address sea level rise and coastal erosion

13

Engage public/legislators/private industry to enact tax credits and provide financing subsidies for sustainability and resiliency projects.

12

A toolkit of actions that individuals and communities can take to adapt to the impacts of climate change in the Region of Waterloo.
Megadisasters, flooding, glaciation: whatever the future now is the time to start a smoth population reduction. Without traumas but steadly.

42

Climate change moves faster than species can migrate. The human landscape is an underused framework for living corridors for biodiversity.
Improve access to knowledge about the environment. It assists the agricultural sector to be sustainable and adapt with climate change.
Flexible reefs would preserve and protect beaches, wetlands, ports and coastal structures while growing food without fresh water.
Bottomless dams can economically capture fresh water from rivers after the river has entered the sea.
Community pools money to insure roads/wells. Protected if disaster hits, paid a premium if it doesn't. #communityinsurance #climatefinance
Teaching farmers about climate change adopted agriculture skills to let children go to school!
Constructed Wetlands reclaim water while reduce Carbon Footprint, increase Biocapacity and their desentralization improve resilience.
Greenland's glaciers are getting darker. By covering dark areas with fresh snow as a reflective material we can reduce the amount of melt.
History clearly proves that forced migration without food, water, and shelter creates uncontrollable chaos and desperation.
capture/create/control and dissipate hurricanes via controlling start of eye wall, making thunderstorms to cool the earth/provide water :P

13

They were only small islands in the rising sea - mere footprints in the sand - without food, water, and shelter - soon to be forgotten!
Coastal regions of Bangladesh are vulnerably affected by sea level rising and practices different adaptation strategies
Prove by calculate absorbCO2/creatO2 of plants before/after we build buildings . Prove environmental laws is wrong by data .
FF use induced global damage has 'baked in' significant biogeochemical changes. The IMBECS Protocol offers one adaptation path.
Seaweed farming offers global food-water security even as Climate Change disrupts traditional land and ocean food supplies.
Unfortunately, Republic of Moldova has the lowest percentage of forest area in Europe- 11.4 % (374,500 ha).
What if planning could bring together strategic/managed retreat and economic redevelopment? This proposal looks at planning for both.
Bring cities to energy independence through carbon, energy and cost neutrality.

17

Strengthening communities with enhanced access to information and promote their adaptation with conscious participation.

11

14

Facilitate knowledge exchange between communities to support innovation, experimentation, and adaptation by mainstreaming climate adaptation

7

Urban DNA for a Sustainable Future
Pump sea water that releases underground in the Sahara desert. Leads to vegetation, moisture and less Atlantic heat storms.
Climate science predicts that we could see as much as 22 meters of sea level rise by the end of the century. We need plan to deal with it.