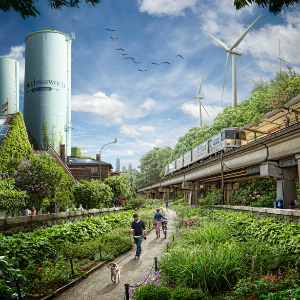 The Smart Zero Carbon Cities Challenge 2016

How can smart technologies drive a rapid transition to zero-carbon cities?
Cities are key actors in efforts to respond to climate change. Over a decade of urban innovation and leadership has shown that meaningful action on climate change is possible. But with the climate crisis nearing critical thresholds, the type of action that we need to see has reached a new level. In urban areas old and new, we now face the inspiring challenge of creating a rapid transition to zero-carbon cities.
Smart technologies present us with powerful tools to apply to that challenge. We've seen impressive results in increasing the efficiency of building, infrastructure, and transportation systems. But more is possible, much more. This contest is open to all projects that propose innovative applications of smart technologies to the creation of zero-carbon cities.
Read more ...
Proposal name /  Author(s)
Modified
Contributors

10

7

6/15/16
Team only
My Energy Xpert is a SMART energy audit and monitoring app empowering people to save time, money and lower their energy footprint.
6/15/16
Team only
The Collective Power Platform is a local peer to peer energy trading market for and by prosumers.

14

4

6/15/16
Team only
create a dashboard that allows cities to understand their business emissions by sector, business size, emissions source, and track progress

32

6/15/16
Team only
Testing the Paris Agreement with ecological, business & social mechanisms to "zero-out" emissions in model city of the future:Tamale Ghana

8

6/8/16
Team only
A bold pathway to Paris: Decarbonise 1000 cities one city at a time.

9

6

5/23/16
Team only
If changing a city so it has zero carbon emissions is hard, getting rid of the bad habit of car overuse is a great start.
5/23/16
Team only
Assessing social behavior of Nairobi residents on adopting to green transport while piloting our e-bikes as alternative means of transport.

7

8

5/23/16
Team only
Exponentially towards a future with net zero carbon output by engaging individuals & organizations, providing scalable learning & prosperity
5/23/16
Team only
A huge part of this challenge is cultural. chapOrange boosts the PR firepower of YOUR innovative solution by providing FREE comms services.
5/22/16
Team only
Drone based technology to identify illegal car parking that cause traffic congestion,pollution.It also help map out air quality dynamically.
5/20/16
Team only
Eco-City is designed specifically to minimize its energy, water and food needs, reduce its emitting pollution.
5/17/16
Team only
Small robots probe wall cavities, cooperatively, to plug leaks, create vapor barriers, and insulate, saving significant heat/cooling energy.
5/10/16
Team only
My Private Smart Zero Carbon City
4/27/16
Team only
Evaluation of natural capital and certification of environmental goods and services for national and international trade

4

4/20/16
Team only
Photovoltaics (PV) a method of converting solar energy into direct current electricity using semiconducting materials.
3/10/16
Team only
VAWTs to replace chimney pots, balconies to support solar-wind combos, numerous solar clad pylons with VAWTs, and endless reflective paint.