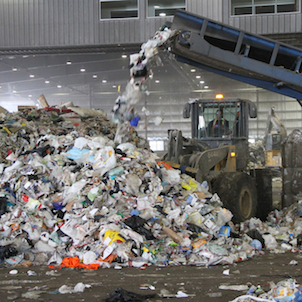 Waste Management
4
days until Finalist selection ends
Finalist selection
Expert judges select finalists

08/21/14 EDT - 09/07/14 EDT
Winners selection
CoLab members vote and judges also select winners

09/07/14 EDT - 10/02/14 EDT
Winners awarded
Winners are announced for the Judges' and Popular Choice Awards

10/02/14 EDT

Subscribe
How can emissions from waste be reduced?
The IPCC projects that waste disposal will account for more than 1.6 gigatons (Gt) carbon dioxide equivalent (Gt CO2-eq) in greenhouse gas (GHG) emissions in 2030, 3 percent of the global total. This includes emissions from the disposal of liquid waste through sewage treatment and solid waste through landfills and incineration. This contest seeks proposals that address any aspect of reducing GHG emissions from waste. Click here for contest details
To effectively address the growing waste management issue in Indian cities by enabling people to recycle the wastes diverted to landfills
Cement Production is the 4th global fossil carbon emission activity and it´s time to reduce and recycle debris for healthy environment
A social platform that helps motivates users to recycle more by tracking user progress with a point system, and giving reminders.
ECOSAN: a water-conserving and nutrient-recycling system for collection and use of human urine and composted fecal matter in agriculture
Energy Security in 21st Century needs Hybrid model with; Top-down and bottom-up approach to meet environmental and economic Sustainability.
Converting various wastes into biodiesel, electricity and heat at wastewater treatment plants to minimize waste disposal and GHG emission
Uncontrolled greenhouse gas emission from sewage waste will be reduced by using simple technology like utilizing this waste in making biogas