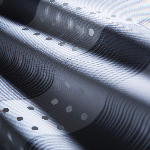 Materials Matter
Finalist selection
Expert judges select finalists

06/19/16 EDT - 07/05/16 EDT
Voting Period
CoLab judges select winners

07/05/16 EDT - 07/31/16 EDT
Completed
Winners present to potential implementers

08/01/16 EDT

Subscribe
Receive daily activity digests about this Contest and its Proposals via email or under "My subscriptions".

Fabrics and textiles impact our climate -- a lot. How can we spark a materials revolution by rethinking how we value and use them?
The materials we use to clothe ourselves and cover our things have a profound impact on the climate. They are all around us – in the furniture we sit on, the cars we drive and the clothes we wear. The fact is, materials matter. According to research compiled by MIT Materials System Lab, approximately 25 billion kilograms of cotton was produced worldwide in 2013, resulting in the same annual GHG emissions as 51.3 million passenger vehicles. Enough leather is produced annually to cover the state of Maryland (double the size of the greater London area). Polyester production for use in textiles this year alone is estimated to generate as much greenhouse gas emissions as the annual emissions of 185 coal fired power plants. That's a material issue.
Developing new material compositions and reducing the impact of fabric production is necessary, but not sufficient to reduce the climate impact of industries that rely on fabrics. Before we can advance and scale innovation in materials, we need to build an understanding of the challenges and opportunities that exist. We need to redefine society's relationship with fabrics and textiles. This contest seeks novel and well thought-out ideas on how to engage industries, designers, product creators and the public in valuing, demanding and adopting lower impact materials. See our launch video here.
Read more ...
Proposal name

click to sort by name

/  Author(s)

click to sort by author

click to sort by
number of supporters

click to sort by
number of comments

Modified

click to sort by date

Contributors

click to sort by contributor

3

6/19/16
team only
A Sustainable Label System for Conscious Consuming
6/19/16
team only
Redesign apparel tag to inform consumers of choices they have to minimize environmental impacts of their clothing and footwear selections.

9

2

6/19/16
team only
Impact Fashion Week (IFW) encourages students to set a new paradigm for interdisciplinary design, equity, and climate solutions.
6/19/16
team only
We love our apparel, but when the time comes and our love has faded, let's not forget that there is remaining value in these items.
6/19/16
team only
Linear (waste-making) economics is the global norm. If we're serious about change in any sector, we must change the economics.
6/19/16
team only
Visual recipes of low impact materials for sustainable production and use
6/19/16
team only
Establish an independent industry-backed authority that acts as the governing body of a voluntary sustainability pricing framework.
6/19/16
team only
Our proposal will offer a revolutionary garment collection and app service as a plug-in on the already popular App such as NIKE plus running

13

6/17/16
team only
Our model for closed loop textiles reduces the impact of the apparel industry and brings new opportunities to emerging markets
6/15/16
team only
Sourceseed is a curated alternative material option platform that allows designers to co-buy fabrics with eachother at an affordable price.