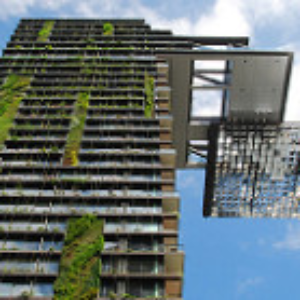 Buildings 2016
Proposal creation
CoLab members create proposals
01/15/16 08:00 EST
-
05/23/16 08:00 EDT
Proposal revisions
Semi-finalists can improve their proposals
06/07/16 12:00 EDT
-
06/15/16 11:00 EDT
Voting Period
Public Voting Period
07/05/16 12:00 EDT
-
07/31/16 11:00 EDT
Completed
Winners are awarded
08/01/16 12:00 EDT

Subscribe
Receive daily activity digests about this Contest and its Proposals via email or under "My subscriptions".
What initiatives, policies and technologies can significantly reduce greenhouse gas emissions from the building sector?
The Intergovernmental Panel on Climate Change estimates that buildings will account for over 25 percent of global greenhouse gas emissions in 2030 and that nearly half of these emissions can be avoided at modest cost, all of which makes buildings one of the sectors that holds greatest potential for climate change mitigation. This contest seeks proposals on how emissions from buildings can be significantly reduced, with a focus on increasing energy efficiency.
Read more ...
Proposal name

click to sort by name

/  Author(s)

click to sort by author

click to sort by
number of votes

click to sort by
number of supporters

click to sort by
number of comments

Judges' & Popular Choice

363

23

7

Let's build more sustainable buildings by empowering people to design their homes and shape their communities.

Popular Choice at large

327

50

10

If we want to reverse climate change, we have to reach people who don't think about it. Let's make climate-friendly housing decisions easy.

Impact & Novelty

114

8

Teaching people to build low carbon footprint, energy efficient, and naturally heated homes in poorer and colder regions of the world

Finalist

237

14

8

Make your own fuel at home from atmospheric CO2 – heat your home with the energy you produce and store yourself #UseNotReduce

Semi-finalist

Build an affordable, off-grid, 100% solar powered tiny house as a model to advocate for the formation of carbon-neutral housing communities.

Semi-finalist

6

Enabling buildings to do photosynthesis by covering them with creepers & climbers.

Semi-finalist

High-Efficiency Transparent Solar Cogeneration Power Modules for Building Envelopes.
My Energy Xpert is a SMART energy audit and monitoring app empowering people to save time, money and lower their energy footprint.
We have 100% of technology off-the-shelf to make all buildings Net Zero Carbon! Build Wealth Locally - Create Jobs - Save the Planet!

13

Existing buildings suck 40% of U.S. energy use. Deep-energy Passive House retrofits create energy savings of 60-80%. Go Massively Passive!
To save heat/cooling energy, microbots could map out wall cavities, seal air leaks, create vapor barriers; and fill them with insulation
A solution for plastic waste: use it to make homes that are low emissions, low-cost & easy-to-build.
Join the FIGHT for survival. «First step in solving any problem is recognizing there is one» -- Will McAvoy -- Say goodbye to Denial!
Join the FIGHT for survival. «First step in solving any problem is recognizing there is one» -- Will McAvoy -- Say goodbye to Denial!
How do we lower CO2 levels in where enough water is unavailable?

3

Heat moves to cold. There are hot and cold colours. Each colour has its own wavelenght. Create stripes which change colour of the building.
Build a website where people can post sketchup designs of energy efficient buildings and building additions. Host contests for best designs.
A process by converting fast growing sustainable soft woods into a hard durable material.
35 billion m2 of new building floor area by 2050 - Call for India to mainstream "Sustainable Habitat Indicators into Building Constructions"

3

Use of land for living, eating, working, sleeping does not deny its use for climate change amelioration. That use is right there above you!
Low-carbon buildings are buildings designed and constructed to release very little or no carbon at all during their lifetime.

23

You want efficient buildings yet you tax them--improving them raises their tax liability. How rational is that? So shift the property tax.
Integrate a superior construction system with natural energy management + solar & wind & result is a net Positive Energy Lifestyle structure
A water heater that uses zeolites to store solar energy and later uses the same to heat up water.
Reduce energy use in offices with AC/Heat by publicly identifying those who leave window open. #observability @yaleact
Tap water has significant impact on reducing the amount of bottle plastic consumption. Therefore, it will reduce GHG emissions.
I you can creat an arch with rooms inside it above a road, all filtered by fans, you could cycle air from under the arch to ontop.
I you can creat an arch with rooms inside it above a road, all filtered by fans, you could cycle air from under the arch to ontop.
Improving energy efficiency in buildings is usually very cost-effective, but significant potential remains to save energy in most buildings.

7

Our homes and other buildings account for half the energy we use and carbon we emit, so let's make them as close to zero-energy as possible!
OSMOTHERM is a novel thermodynamic heatpump cycle that utilizes the thermochemical properties of crystallization-dissolution by forward osmosis to move heat.
Using the power of platforms to harness change. Building the TripAdvisor of energy management for business... the Curve.